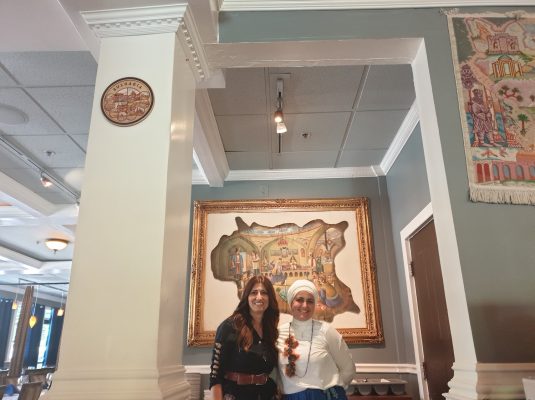 I saw that my friend Manya had an incredible gift with jewelry making from the moment I set eyes on her work with its signature flair and variety of textures. Immediately, I recognized that I had found a gem.
So, I set up the interview with gracious Manya, and what ensued was the most fascinating conversation about how she creates her pieces. I got a glimpse of a set of values and an approach to life that I appreciate so much.
Let's start with childhood, as the key to our deepest passions lies there, somewhere in the experiences that we had and lost only to regain again in adulthood if we were lucky. As a child, Manya loved art and fashion particularly and would draw a dress every day. She also excelled academically and used to love mathematical problems and mind puzzles. There was this special joy she felt in the pondering, attending, and letting go, only to come back again to focus on finding the solution, for there must be one after all!
Fast forward and Manya graduated in computer science, married a few months later and moved to California, starting a family shortly after that. She would push her firstborn boy in his stroller through the dazzling arts and crafts shop called Michael's and would proceed aisle by aisle, inspecting the crafts items and reading about them.
She used her eye for color and design, and her crafty hands to decorate pieces of furniture that she would ask her husband to make. Once he had built it, she would take it from there and transform it into a unique, lively and beautiful piece. But, one day, as she was creating wall hangings to decorate her home, she somehow got the idea to make her first necklace and since that moment Manya never looked back.
I love Manya's approach to creating a piece. She just keeps looking at various craft items in different ways, and then starts to put them together, waiting in anticipation for a mistake to happen. Yes, you read right, she is looking for a mistake, as in that mistake, is her opportunity to fix it and to create something beautiful. I have never heard someone speak so positively about mistakes, and actually hoping that they will occur as they hold a chance for discovery and growth.
Manya will work patiently with a piece, giving it time and attention, then letting it go and one day she finds the way. A lot of her pieces are born and finished this way. She spoke of a piece that she left for two years, never feeling like she got it right. Then one day, she found her way to solve the puzzle and she had her solution. She felt that same joy that she would feel bubbling up inside of her when she solved a puzzle at school. This is still one of her favorite pieces. Her work has of course evolved and she loves her new work more than her old. In that is her acknowledgment that a human being changes and doesn't stay the same.
Another amazing attitude Manya has about creating is that if she doesn't feel a piece is working, she will just take it apart, and not even feel sad about it. She is completely ok with working on a piece for days and weeks and then realizing it's just not happening and letting it go without sadness or resentment. 
I asked Manya about how she finds her materials and she said that she gets them from everywhere... it could be a blind as in drapes, keys, hardware, a zipper, or a hair clip. She also loves a store called Brightex in San Francisco and an antique mall in Monterey Bay. She also loves going to antique and vintage shops. Anything that strikes her as a raw material for jewelry is fair game. Don't you just love it!
Manya, yes, is very committed to her work and would love nothing more than to lock herself away with her pieces and raw materials and play. But, she also loves being a mother and a wife and a daughter and a friend. So it's only when her husband is traveling, which his work requires him to do often, that she sends her lovely girl to school and then goes into her workroom and loses herself in the magic. She is grateful for the privilege to be able to work because she wants to, not has to, and that she can fulfill other roles in her life as well.
Manya's unique approach continues with how she shares her pieces. She doesn't sell. She works so hard and forms such a closeness to each piece and she doesn't find letting go easy. Each piece is her life and is not repeatable. She did every part of it and each piece is a story. Manya loves seeing her pieces on people though, so her friends all know that they are welcome to borrow a piece and they usually send her a photo that she places in her private album called Friends and Jewelry. Manya also loves collaborating with designers, fashion shoots and shows or lending her pieces to be used. Her favorite way is of course to style the model herself.
Upon pressing her a bit further, not much though, Manya admits she may be wrong in her approach. Yet she feels she is waiting for something to happen first before she is ready to let go of her precious pieces. She likened her feeling to that of a mother who hasn't smelled and felt her children enough to let them go, and then one day she feels ready and they leave the nest. And Manya, like so many with talent and extraordinary talent at that, need a supporting hand that is adept at business and strategy to know what to do next. These collaborations ensure artists are represented correctly and bring the right light to the beauty right at the fingertips.
Beautiful Manya, creating gems by following her heart and what truly sparks joy in her soul. May that milestone be ever close and may I be among the many celebrating you and your gift.
Manya Nofal's designs were exhibited for the first time at the Luxetigers Fashion Fund for Families on November 7, 2013. Her intricate and exquisite statement necklaces captured the attention of influential figures in the fashion world and continue to do so.
Special Thanks
To Manya for the contribution of images
Share This Post