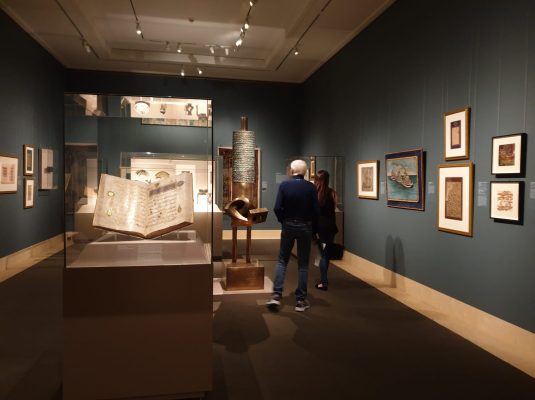 I have had a love for calligraphy since I was in school. And, I am so grateful that we had a subject in school to teach us this gorgeous art form, as simple as our classes were. The lessons also inspired me to teach myself to write English cursive beautifully. The hours that I would spend pouring over the paper and book to practice and learn are still vivid in my head, with T.V. in the background to keep me company. I was probably watching the film Gigi for the 40th time before my mom decided she was done with watching me watch it and hid it from me, haha.
My love for calligraphy deepened as I matured and understood its spiritual dimension, for not only does it symbolize Islamic artistic expression but it is usually used as a beautiful way to present the word of God in the Quran or in pieces of art that distill the oft repeated verses that one grows up with and that become part of one's thoughts and way in the world.
There is also the tradition of writing quotes that carry beauty in their meaning, and my heart, like that of many of us, softens and is soothed by a good quote to live by. Calligraphy gets only more significant to see how the creative and decorative possibilities of the written word have been explored in Islamic artistic tradition. It is very much the thread that binds the art of regions across countries and continents that were predominantly Muslim if not Arab lands. And after two false attempts along the years to learn calligraphy, I know and deeply appreciate the time and dedication it takes to become a calligrapher, let alone a master one.
The association between the practice of writing and Muslim lands can be traced to about 3500-3000 B.C. when the Sumerians in Mesopotamia were credited to have invented cuneiform, a system of writing made up of basic signs. This system evolved into numerous alphabetic writing systems, including Aramaic, Phoenician, Hebrew, Nabatean, and Arabic. The Arabic letters as we know them began to assume their forms in the fourth century A.D. and by the sixth century had become relatively fixed. Then Kufic script rose in the late seventh and early eighth century, before paper came into the Islamic world from China as another major development and finally in the tenth century, there was a movement towards more readable efficient cursive scripts. So it makes sense that the station of a katib/scribe was one of honor and power. They also had the role of counselors for rulers and princes and therefore were expected to be honest, loyal and possess excellent character. 
So you can imagine the extent of my delight when I visited the Metropolitan Museum of Art in N.Y. to bask in the beauty of the space and its gorgeous pieces, and to take photos for Bint Battuta when I happened upon the exhibit of the museum's treasures in relation to calligraphy. Of course, I wanted to share the pieces of the exhibit with you, so I returned the next day to take photos and explore the exhibit further. I loved how the three sections skillfully led me through the Arabic script, then the use of calligraphy to embellish the word of God, and then the use of calligraphy in ornamental and abstracted forms. I hope you enjoy them and are charmed by the world of the sacred penmanship as much as I am.
All that I have shared with you in terms of information comes from the book "How to Read Islamic Calligraphy" by Maryam Ekhtiar, an associate curator at the Islamic Department of Islamic Art at the Met. I have had the pleasure and honor to meet Maryam and walk through an exhibit on Seljuq art with her and a mutual friend, who took me along. The book gives such insight into the art of Islamic calligraphy in an intelligent and very accessible style ma sha Allah.
EXPLORE The Decorated Word: Writing and Picturing in Islamic Calligraphy
Calligraphy is a key achievement of Islamic civilization and arguably the most characteristic expression of the Islamic spirit. Throughout the Islamic world, calligraphy embellishes the surfaces of objects large and small—from architecture to items of daily use—in styles that range from the elegant, refined, and eminently readable to the decorative, abstract, and barely legible. No other culture has explored the decorative and creative possibilities of the written word as extensively.
This exhibition examines the interplay between writing and picturing in Islamic calligraphy and explores the inherent tension between textual design, decoration, readability, and verbal clarity in some four dozen examples of Islamic calligraphy from The Met collection. These works, created between the ninth century and the present, include works on paper and parchment; ceramics; metalwork and coins; and a carpet. The presentation includes a selection of modern and contemporary works by artists from Iran and Pakistan who use the written word as their primary mode of artistic expression.
The exhibition is made possible by The Hagop Kevorkian Fund.
READ How to Read Islamic Calligraphy by Maryam D. Ekhtiar
This book offers new perspectives on an art form that has mesmerized viewers for centuries with its beauty, sophistication, and seemingly endless variety of styles.
For centuries, Islamic calligraphy has mesmerized viewers with its beauty, sophistication, and seemingly endless variety of styles. How to Read Islamic Calligraphy offers new perspectives on this distinctive art form, using examples from The Met's superlative collections to explore the enduring preeminence of the written word as a means of creative expression throughout the Islamic world. Combining engaging, accessible texts with stunning new photography, How to Read Islamic Calligraphy introduces readers to the major Islamic script types and explains the various contexts, whether secular or sacred, in which each one came to be used. Beauty and brilliance emerge in equal measure from works of every medium, from lavishly illuminated Qur'an manuscripts, to glassware etched with poetic verses, to ceramic tiles brushed with benedictions. The sheer breadth of objects illustrated in these pages exemplifies the ubiquity of calligraphy, and provides a compelling introduction to this unique art form.
Share This Post