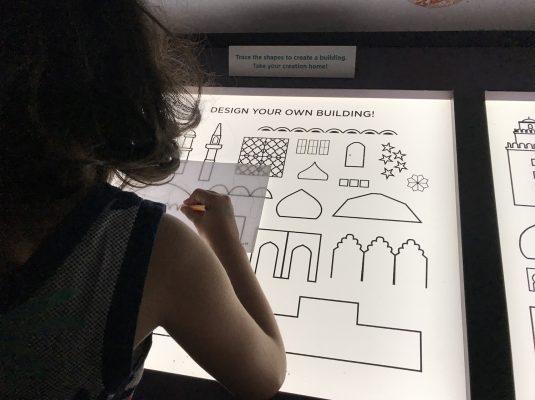 On Eid, I love to celebrate what matters most to me. I was lucky enough, that last Eid, I was able to share the video of how my beloved Khalto (my mother's sister), used to  make Maloubeh - honoring her memory and her passion for feeding loved ones. Cooking and sharing food  is definitely one of the important ways Eid is celebrated - as we can all attest to, haha.
This year, my thoughts have turned to making sure that the joy of Eid and of Islam, as a faith, reaches the hearts of kids. There are many experiences that we can tailor to them, like the delight of wearing shiny new clothes, or going to salat El-Eid. We can also visit family, especially the elders, and the kids get eidieah/money in celebration of Eid. I remember how my uncle, God Bless his soul, would hold my hand in Cairo and take me to buy fawanees Ramadan and candy in celebration of the Blessed month and of Eid. I could feel his love for me in those special outings and they are now precious happy memories that inspire how I interact with the kids I am close to.
This brings me to the exhibit that is the gem of this post, 'America to Zanzibar: Muslim Cultures Near and Far', produced by the Children's Museum of Manhattan. I still remember vividly the first time I visited this museum while I was doing my masters. I was taking a class on museums as educational settings with my amazing advisor, Hope Leichter, and it was my first time inside a children's museum period. The moment I stepped inside, I felt like I was inside a magical world of meaningful and creative play there to inform my mind and expands my spirit. I was in heaven! It was so exciting to explore the healthy mix of facts and arts of all kinds that engaged my senses.
Andrew Ackerman, the executive director of the museum welcomed us inside and announced that joyfully, he would be our guide. He spoke so eloquently and engagingly of how this purposeful wonder world came together. I walked away inspired and for the first time, wanting to intern somewhere. Andrew, with his sharp intelligence knew to give me a task which I didn't know that I had in me to do, and do well, at the time. Yet, he planted a seed in my growing self-awareness of how much the intersection of culture, heritage, arts, and education are my passion and calling. The task that he asked of me was to produce a festival to celebrate Arab culture, and I did.
It was an incredible experience learning from the professional and talented project team, especially Rita London who only said yes to anything I suggested and encouraged me at every turn. I wish to be a Rita and I wish that you all have the fortune to experience working with a Rita, if only once in your lives. I am blessed to do so now with Kathryn Horsley, who edits and supports my work on Bint Battuta Diaries, both with the blog and the Instagram. She brings them that much closer to the beauty that can only be found through excellence, with a contagious joy and openness. Thank you God for the gift of Kathryn and then, thank you lovely Kathryn for being you!
Since I met Andrew, I've always remembered him speaking of the large exhibit he wanted to produce on Muslim culture. I knew that with him, it was only a matter of time. So, I was delighted, but not in the least surprised to hear from him that it was finally happening. I went and visited during a quick transit in NY and was charmed by the colorful, positive and rich glimpse the exhibit gave of Muslim culture. It was something to behold the life-size, and sometimes bigger than life structures and images that brought important Muslim objects, values and history to vibrant life.
The exhibit started with a courtyard, familiar to most cultures in Muslim countries as they ensured the parity and humbleness of the outside and kept a garden at the heart of the home to spend cool days and eves privately and comfortably, especially for women and children in the home. This one followed the Iranian garden style  that separates the space into four quadrants known as the Charbagh. The courtyard held the fountain which is a critical feature, providing both the beauty and life that only water can bring. Then there were the displays of real art objects representing Muslim culture, some of which were even on loan from the Metropolitan Museum of Art. See, this is the breadth of planning that elevates the quality of the learning about and appreciation for a culture.
Then there was the music. They had real instruments on display to appreciate and an app that allowed kids to hear each instrument or create their own harmony with instruments that come from diverse parts of the Muslim world. This activity made me remember how Andrew had said to us during our tour as students with Hope, that, "it takes a long time to reach, 'simple'". Simple, engaging, informative, super-effective and fun learning experiences. That resonated with me so deeply. Muslims were known for their skill in navigation and trade, so the exhibit also featured transportation through a Bahraini Dhow, A Pakistani truck and the camel known as the desert ship. All with information for context and well planned activities or games to engage the kids in hands-on learning
In addition, there was a huge global marketplace where kids could sell Turkish ceramics at the Bazaar, weave Moroccan rugs while learning about the stories that were woven with them, touch and role play with Senegalese African textiles, smell Indonesian fruits as a way of learning about them and so much more.
I loved how the diversity of the Muslim World was evident through maps at every turn almost. There were such a range of touch points, whether it was where an instrument was played or how a commodity was sold, or about the Muslim explorers known across time. This is only one example of the depth of planning involved in this exhibit. The planning took six years and involved numerous experts from the Muslim community, including religious scholars as well as institutions to verify the accuracy of what was presented. It would also not have been possible without the generosity of sponsors, like the Doris Duke Foundation, and individuals as well. It was a pleasure to see names I recognized, and which made me so proud, like Sultan Al-Qasimi and Ahmed El-Gaili.
Another section very close to my heart was that of Islamic architecture and the mosque. It was just as prominent and as gorgeous as the courtyard style. My heart did a somersault at the use of technology that enabled the kids to navigate a virtual tour of 25 top mosques around the world. I would have loved to see the Mosque of the Prophet Peace and Blessings be upon him in Medinah and the Al-Aqsa mosque in Jerusalem as they are the two most important mosques to Muslims, after the Haram that houses the Kabah, of course. The location of The Haram is the direction to which Muslims turn to five times a day when they pray. Maybe these two mosques can be added to the display, as I have happily read that the exhibition has been extended for another year due to its popularity -  and that it is now touring in the U.S! I also read that once the museum moves to its new and bigger home, there is a plan by Andrew for the exhibit to become permanent. Thank you for that dear Andrew. We appreciate your courage, humanity and dedication.
The last section of this fascinating exhibition, was just such an effective way of bringing home that Muslims are Americans too and are proud to be so. They also wish to find their passion and to step-up to make their country and the world a better place. It was something to see all the displays from very different Muslim-American homes that showed objects that they hold dear, whether they were about culture, identity or talent. There was an amazing array of videos that focused on American-Muslim women who had owned their power, found their voice, and who were living with their faith alongside their creativity and intellect. Lastly, there was contemporary art from American-Muslim artists, representing their culture and faith. I initially questioned the presence of this section as it wasn't really interactive and not from kids-to-kids, as the Muslims being represented were all adults.  Then, it dawned on me how powerful the message of showing kids, especially the Muslim ones, role models of Muslims who were proud of their identity and saw no conflict between being Muslim and being American. Such a timely and well delivered message and that is why, out of all the photos I took, I documented this section the most.
I hope you will enjoy the glimpses the photos will offer you and that you follow this exhibit, visit it if you can one day and take along a child or two.
Special Thanks
To Lassi with Latvia for the contribution of images and a video
VISIT Children's Museum of Manhattan
Founded in 1973 by parents as a grassroots, neighborhood organization, the Children's Museum flourished. Today, it is a beloved citywide resource for children, family, and educators as well as a popular destination for visitors from around the world. Each year, approximately 375,000 people visit their 38,000 square-foot learning facility on Manhattan's Upper West Side. Millions more benefit from the museum's outreach programs at schools, libraries, homeless shelters, Head Start centers, and hospitals; its touring exhibitions; and its online tools and curricula.
DISCOVER America to Zanzibar: Muslim Cultures Near and Far
America to Zanzibar: Muslim Cultures Near and Far' showcases the complex beauty of the Muslim culture and its many riches. It is the heritage of so many Muslim communities in NYC and now they can take ownership of it and share it with their friends.
Share This Post