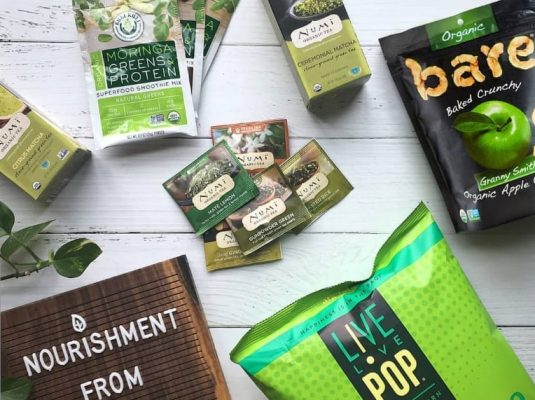 There are some businesses in this world that show us that anything can go way beyond the literal impact of their product, if done with the excellence of Ihsan. It's a profound joy for me to discover them and bring them to you. Numi Tea is one such venture.
Created by brother and sister team, Reem and Ahmed Rahim, her the artist and him the alchemist, Numi Tea reawakens the memories of their favourite childhood citrus tea and more than just satisfying thirst, their triple bottom line venture is changing lives.
First of all, the fact that they are family warms my heart. Growing up in Cleveland Ohio, they remember visits to their country of origin, Iraq where they would be served Numi tea with lots of sugar in homes and in shops. Numi is a desert lime grown in Oman, that the Iraqis have as a tea, especially in Basra and that the Persian's use as a spice in their food, called loomi.
Reem and Ahmed dreamed up the idea for the company while on a family vacation when they realised they had a shared vision of exporting their childhood memories to the US, and starting from Reem's 750 sq ft apartment, the rest, as they say - is history.
As the artist, trained in engineering and fine art, part of Reem's role was to develop the packaging and Ahmed, the alchemist was responsible for blending the products.
The company has grown extensively since then to become the largest tea company in the natural food space with a warehouse, a garden and 40 people on the team. Now the true unpacking of this pair's commitment to humane and quality product begins. Numi uses fuller leaves and adds only real ingredients. Reem shared the alarming information that oils that are added to many mainstream teas for flavoring. I am so glad to now know that these artificial additives are in many of the teas we drink and that Numi Tea doesn't let it happen to their blends. Their responsibility and concern extends both to the quality of the teas they produce and to our health and rights as their consumers!
Of course, their teas are fair trade and organic, and where they could have given themselves a pat on the back just for that and stopped there, they went a step further and started a foundation five years ago that has programs to serve every community they come in touch with and in a way, belong to.. just amazing.

Reem started by telling me about an experimental curriculum in the arts and gardening that Numi Tea supports in Oakland where the company is headquartered. Then, she went on to talk about the support they give to the communities that grow their teas and ingredients.
They started a Together for H2ope program for the farmers who don't have access to clean water and can't drink the tea that they grow for Numi Tea. One project was in Madagascar where they dug 24 wells and gave 5000 people access to clean water from the river. A second, was a sanitation project in India that impacted 6500 people by funding filters and hygiene to reduce water contamination.  And, last year, a summer program that helped 10-12 year old kids in language and maths skills was also funded by Numi Tea in Baghdad. This level of connection and care for what happens to every community they encounter is a wonderful example of the deep and intelligent care one can show for humanity. They made sure to find ways to serve the communities they live in, work with, and come from originally, what a beautiful witness of remembrance, love and gratitude. If each of us would do our bit that way, what a world this would be, sigh.
When I hear of the impact of these amazing projects around the world, I always think of how far a little money can go in relieving and improving the lives of others in this world. What some of us use that money for and what incredible difference it can make out there where a dollar or a dirham goes such a long long way. I feel that those people whom God has led to these communities to help are so Blessed in their intentions, efforts and love in their hearts. It's a connection that I envy in the good way of envy called "ghibta" in Islam. "Ghibta" means one wants what the other has or is, but without the other losing it. May God Increase the grace and baraka in their work. I have long loved this divine guidance into what healthy admiration and inspiration of others can look like in our hearts and what is worthy enough to become part of what the heart asks for.  

We went on to talk about the new products that Numi Tea is continually coming up with and Reem spoke of two lines. One was of savory teas, that could double up as consumes. They had fantastic flavors and won awards but the customers, it seemed, were not ready for that kind of tea. As a lover of soups myself, my attention was all perked up haha. The other line was of holistic teas that help people work on inner character traits like patience, presence, and gratitude. Herbs and roots that encouraged calm and focus were used. It Reem's brainchild as a way to inspire people to take the time to do important inner work. What can I say, Reem is definitely a woman after my own heart!
In addition to the accolades for their flavors, Numi Tea has won numerous awards for packaging, environmental and social enterprise and I am so glad that this untiring attentive work is not going unrewarded. I have to add, that their Instagram account was one of the most engaging ones that I have looked through between inspirational quotes, information, call to action and explanations of their products. Just loved it! If you want to try the Numi Teas that have an Arab twist to them, then try the ones made with the black tea with cardamom, the Egyptian hibiscus, or the Palestinian hibiscus. And, as always, I would love to hear your recommendations!
Numi Tea is a privately owned triple bottom line social enterprise based in Oakland, California. Numi is known for its assortment of organic and fair trade certified teas and herbal "teasans". The company was founded in 1999 by brother and sister, Ahmed and Reem Rahim. The founders named the company "Numi" after the citrusy, Middle Eastern dried lime tea they drank as children growing up in Iraq. The name Numi is derived from the Arabic word for citrus.
Special Thanks
To Numi Tea for the contribution of images
Share This Post