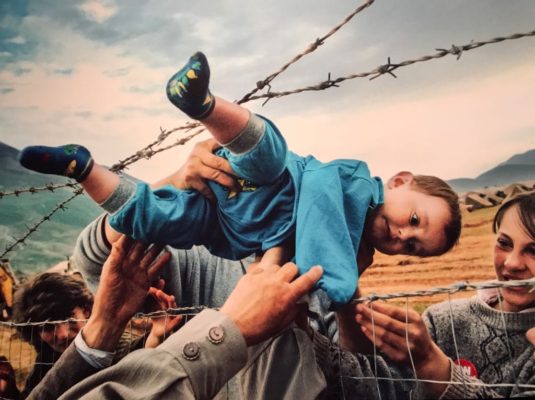 This post is the most sobering for me so far because it touches on death and truth. I went to the Newseum in Washington D.C when I stayed with my niece during her internship because it was highly recommended by a friend who works in the news industry. She not only thought it was worthy of a visit because her line of business is news but also because of the way it's been thoughtfully curated and she was right. I'm so grateful that she pointed me to it because I would not have gone otherwise and I certainly would have missed out. Normally, I don't watch the news. In fact, I'm averse to looking at it on a day to day basis because of the negative slant that can take a toll on the soul and its innate sense of hope and optimism. 
The Newseum turned out to be a delightful surprise. Firstly, the sheer size of the museum was impressive and its interactive interior layout was unusual and cleverly designed for the subject matter it was showcasing. It was made up of many sections with 15 galleries and theaters spread across 7 levels. In addition, it had a number of ongoing exhibits, including the 9/11 Gallery; the Berlin Wall Gallery, whose eight concrete sections are one of the largest displays of the original wall outside of Germany; and the Pulitzer Prize Photographs Gallery, which features photographs from every Pulitzer Prize-winning entry dating back to 1942.
Two state-of-the-art television studios also call the Newseum home and host programs of all kinds, which are broadcast around the world each week.  On a lighter note, paying homage to my curiosity and love for the right kind of gift shops - Newseum had got it right. It was extensive and had funny themed corners focusing on certain famous presidents or on American democratic or republican party slogans.
I wandered from section to section and exhibit to exhibit, like the one on the Berlin Wall and the incredible section on the History of News. That section was truly amazing because of its sheer size and richness of content. 
I wondered where I would come across Arab or Muslim culture and the first encounter was a negative one. It was an area dedicated to terrorism, including the tragic events of September 11th. My heart squeezed as it does to that kind of news. I love NY so much, as I have spent a lot of time in it, and I was actually there when September 11th happened. I felt such deep sorrow to see a vibrant and creative city as bright as the big apple come to a standstill with the shock of death and destruction. The day after it happened, I went with one of my best friends to Central Park to walk around. We both felt an urgent need to reconnect with the life-affirming power of nature. And, we were not the only ones. We saw many many others there with the same need and intention. In the city that never sleeps, a veil of quiet and stillness lay over us all and that is not an easy feat in the busy bustle, noise, and action of NYC. 
As I read through the section on terrorism, I felt sadness because it is not what Islam is and for it to be associated with these kind of acts that are actually the opposite of its spirit, is hard on my heart. The central message of Islam is the recognition of a Merciful Creator and having a loving relationship with Him that informs all other relationships, with the self, others, the Earth and all else that is part of creation. Even concerning the fundamental message of the one God, there's a verse in the Quran that says "there's no force in Religion". Which means force is not the way of Islam, that each soul is to be left alone, to make its own choice. The soul has a right to its own journey of truth upon which it will naturally face the consequences. It is not incumbent on us to make the judgement, let alone act upon it. If anything, it calls for an ever renewable spring of hope and openness towards ourselves and others, that will lead us to God and to Truth. We wish this for every living soul and are rooting for each other to succeed in all aspects of life.
The call for freedom is exemplified in the character and choices of the Prophet Peace and Blessings be upon him. He at every turn, where he could have gone down hard on those who did not believe, chose to be patient and to pray for their guidance. Therefore, it is always a shock and even, a trauma to my system when I see destructive acts stamped with religion or done in its name. True faith is about love. Love for God and His creation, and for protecting the soul and its precious gift of life.
Islam is a gentle religion and it calls to gentleness in many many ways. One reminder that constantly brings that core value home to me, is the practice of saying Bismi Allah AlRahman AlRahim before starting any task or reciting the Quran. This is about calling upon and reminding ourselves to emulate, in our humble human way, two of God's names and there are ninety nine. He Chose that the two names repeated most often would be the two about Mercy. One name, AlRahman is about his general mercy to all mankind and, the second name AlRahim is about his specific mercy for the faithful. There is a Hadith where the Prophet says: "God Made mercy a hundred pieces. He Kept 99 pieces for Himself and sent down to earth one piece through which humanity would be merciful to each other. So that even a mare would raise her hoof away from her child so as not to harm him." Reflecting on this hadith has always filled me with wonder since childhood, as it offers a glimpse into the immense Divine love and Mercy of God by pondering on the sum total of mercy shown by humanity throughout time. I just have to look at the mercy of a loving mother devoted to her baby to begin to understand the kind of mercy that God has for us and to be so grateful for it.
There's a verse in the Quran, that I mentioned in my post on Madinah and it is just as relevant here, where the Prophet ﷺ, in his last address says he is sent but a mercy to the world. The centrality of Mercy to Islam is so clear. That's why it is just so foreign to my understanding and to my experience of this faith or any true faith, that an act of terrorism or any act of that kind can be connected.
As I made my way through the various exhibition halls, I was debating whether to include what I had found so far in a post or not. I was struggling because I wanted to express how I felt about Islam as a faith being linked to such horrible in-human acts, but I also wanted to make sure it was done in the right context.  
As I was still considering what to do, I came across the counter-reality. I was greeted by an incredible wall about reporters who gave their lives to uncover the truth, the value that any real faith calls for. These reporters risked everything in order to help people in times of crisis and conflict and to tell us what's really going on. And, some of these brave unsung heroes were Muslim or Arab. I was so thankful to see this representation of what Islam and the best of what Arab culture is truly about.
It was so affirming to bear witness to the faces, names and stories of men and women from across all faiths and nationalities that go out there in our name and bring back the truth to us. It was really quite profound for me. At first I felt emotional, then calm, and then incredibly sad that their bravery for truth resulted in their death and their loss to their loved ones. But, it is death and loss in the most honoring of ways.    
I took time to take make sure I found every Arab and Muslim reporter on that wall and took a photo of them and their story. I hope I didn't miss any of them. I wanted to share their stories with you as a way of tribute and deep-felt thanks. So we can all pray for them as their acts called for incredible courage and we hope that they are in a much better place. They are a source of pride and honor for their families and loved ones.  
I highly recommend going to the Newseum when you are in Washington D.C. Most museums are on arts and culture rather than a subject theme, so it was very interesting to see a museum on the theme of news. Who thought that up?! The museum was so beautifully executed and extremely informative as you will see from the glimpses I shared with you in this post.  If you have already been to visit, please do let me know, I would love to hear which sections resonated most with you.
LEARN MORE about the Newseum
The mission of the Newseum, located in Washington, D.C., is to increase public understanding of the importance of a free press and the First Amendment. Visitors experience the story of news, the role of a free press in major events in history, and how the core freedoms of the First Amendment — religion, speech, press, assembly and petition — apply to their lives.
DISCOVER the winners of the Pulitzer Prize
The Pulitzer Prize is an award for achievements in newspaper, magazine and online journalism, literature, and musical composition in the United States. It was established in 1917 by provisions in the will of American (Hungarian-born) Joseph Pulitzer who had made his fortune as a newspaper publisher, and is administered by Columbia University in New York City. Prizes are awarded yearly in twenty-one categories. In twenty of the categories, each winner receives a certificate and a US$15,000 cash award (raised from $10,000 in 2017). The winner in the public service category of the journalism competition is awarded a gold medal
Special Thanks
To the Newseum for the contribution of images photographed from their displays. And, to the owners of the other images, we sourced from the internet.
Share This Post