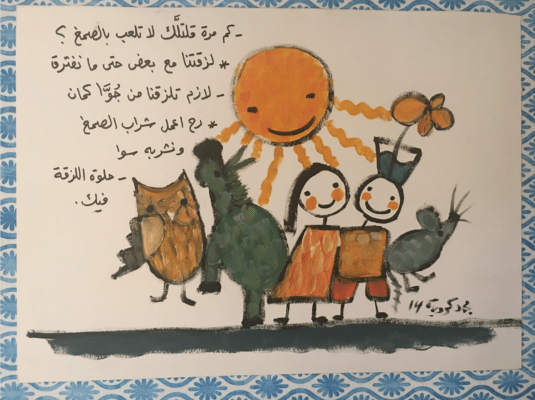 Every once in a while, a creative soul and their work comes into my life and heartens me, gives me hope and makes my heart energy stronger and greener. One such soul was Majd Kurdieh. I love the story that brought him into my life as it is as random as it gets. Which, to me is proof of God's infinite Wisdom and Mercy. When we least expect it, a Divine gift comes our way to ease it and light up our hearts. I have the kind of busy schedule while in Dubai that believe it or not, being bint battuta and all haha, I don't get to explore as much as I would like to in it. I was organizing a photography workshop for Peter Sanders, a well known photographer whom I have a lot of respect for and was looking for places to distribute the flyers. A very dear friend pointed out a space to me called The Workshop and told me to speak to a lady there by the name of Nour who would help me in placing the flyers.
Well, when I went to visit The Workshop, it turned out to be its' own hidden gem tucked into a side street in Jumeirah. It wears many hats. It's a concept store, a gallery, café, and event space that's quite charming in terms of its style and details. It aims to also be a space that serves community so it hosts open-mic nights and talks that are of interest and benefit.
Nour was so gracious, a beautiful woman with a wide smile and an open, positive energy. She welcomed me and took me on a tour of The Workshop. I started noticing one art piece after another on some of the side walls that were all created in a cartoon style by the same artist and were delightfully well done. As I started to focus on the details, I realized this was very beautiful work by a very special soul. Some of the pieces had the characters saying things that were either about the philosophy of life, or by a man deeply in love with a woman, and humor was ever present in witty ways.
I travel through your smile and your eyes are the stars on the way
Am I a donkey that has a rose for a tail or am I a rose in the shape of a donkey? I don't know
Once Nour noticed my interest she told me about the heartfelt and moving story of the artist, Majd Kurdieh. Majd to start it all off, is Syrian. If you don't know much about the art scene in the Arab world, one of its true springs is Syria and that makes perfect sense as it's also one of it's oldest and grandest civilizations. Syrian art, despite its somewhat insulated years during the reign of Hafiz Al-Asad, had a thriving art movement and talented artists. Syrians, at their best, are known for their depth, strength, business and social savvy and intellectualism. They also have strong principled stands on issues such as the Palestinian occupation.
Sadly, the plight of Syria today which we all know, and know well, as it has been going on for so long and is so heartbreaking in its destructive effects on the fabric of Syrian everyday life and family. I have such faith in the Syrian psyche. I know that when it's time to rebuild, it will come back strong and beautiful. The legacy is just too strong. Majd's story is one such example, of light coming out of tragedy. His ailing father wanted him to leave Syria and helped to do just that. He reached Lebanon alone and his father passed away God Bless his soul. Majd's mother is in Syria and they haven't seen each other since.
Majd created the two main characters in his art, Fasoon and fasooneh. Here is the first funny twist that just manages to tug at the heart at the same time. That name is used as a term of endearment to little boys and girls that teases them as "little ones" in very colloquial Arabic. You just don't expect it to show up as the name of two stars in incredibly sophisticated art which Majd's is, even if it does come in the form of child-like drawings. Yet those names are just perfect. You move on to fall in love with both Fasoon and Fasooneh as they are both bright lights of wisdom, authenticity and love. Fasoon is so in love with Fasooneh and rightly so and is always expressing it in the loveliest of ways. The ways a woman would want to be admired and supported by her partner. Majd's work involves art and literature together, and is inspired and affected by Kalilah Wa Dimna, Animal Farm of George Orwell, and the old poets of pre-Islamic period- Saalic (Tramps).
Majd says: "Fasaeen... realistic slaps coated with dreamy kisses... theatrical characters that appear on the austere whiteness of the painting where they tell their story and run away as if they belong with the Tramps...the talking animals are an extension to the conversations between the poets and their horses and wolves...I tried to be visually aesthetic as much as I could...when I found myself an immigrant who cannot carry many colours and lines...the heavy suitcases burden the wings of the swallow...yellow and blue...everlasting nostalgia for a land on the banks of the Euphrates...merely scattered thoughts that resemble what I did. In the time of war, I did not try to present death and destruction as an aesthetic case; I have rather tried to reconstruct the beauty of the souls that ugliness have destroyed."
I wish we could be a home for each soul who has no one... I would be a window that doesn't allow the cold in and you a roof for every dream.
-What are you doing? *We are waiting for you -but I have arrived *come wait for yourself with us waiting for you is beautiful
Three spoons sunlight, three tears of the travelling bird and three of fasooneh's laughs/ the chocolate recipe
Everything you have touched became a forest and flew
-Why are you hiding inside that box *Every time I draw fasooneh the bees attack
-Don't be scared I will save you *But I am not afraid nor do I need saving - ok.... save me because I am stuck
The magic doesn't stop there as Majd's tale and world unfold. Majd shut himself away for two years and came out at the end of it with a friendship with Nour who brought his art and his wonderful humanity to us. Special acknowledgment is also due to Ghada Kunash the founder and owner of The Workshop who also recognized Majd's talent and potential, supporting his work ever since.
What Majd also came out with is that Fasoon and Fasooneh had gone on to create the gang of the very scary butterfly. Here comes another inside joke only someone who speaks Arabic would get until it's explained. The word in Arabic describing the gang as "very" scary, is misspelled in an ingenious way with a letter, added in, that has the same sound as the diatric that shows how a letter is pronounced in Arabic. It just tickles me and any Arab I speak to. And it would take a Syrian to come up with something like that, as another thing Syrians should be and are very proud of is their incredible command of Arabic. Syria has been a bastion, I need to be dramatic here hehe, of the Arabic language. The layman Syrian raised in Syria has such beautiful mastery that shows up in the eloquence of everyday conversation. No easy feat I can tell you as a native speaker of Arabic.
Back to the gang of the "very" scary butterfly, the mission of this gang is to steal the sadness of others, awww. I want to belong to that gang. Every creature symbolizes an important meaning in life and in the story of humanity that Majd weaves for us. My favorite character is "Mr." Donkey which is another lovely linguistic joke. Ustath in Arabic is both Mr. and teacher. I have always found the donkey to be a lovely underappreciated animal. That's not the case with Majd.
-We are going to create a gang *We will call it The Butterfly Gang -The Very Scary Butterfly Gang *And what will we steal? - The sadness of the neighbors
Don't imprison your flowers within you
I started choosing pieces for me, as well as gifts for the birthdays of dear and close friends. One had the perfect message for a soul-sister who has crafted her own path away from what is known to her or her family and I have so admired her for it. Another beloved friend values friendship so deeply that I could only answer her back with the same love, loyalty and honor. One special friend, who does her work with such love, thoroughness and dedication that truly her steps spread beauty, life and hope. Another one, has been the glue to her family and to whole communities. A woman of great goodness and spunk while she is at it. Yes, I am truly blessed with my close circle and I honestly, couldn't find the messages for each one so I made do with the few that I found messages that for me paid tribute to and expressed their incredible pro-life, pro-joy, and pro-other essence.
Walk a new path even if the old one was planted with roses.
What makes the path is its companions... not its sand
From your steps spring roses... don't stop...
-How many times if I told you not to play with glue *I glued us together so we wouldn't part -You need to glue us together from the inside also *I'm going to make a glue drink and we drink it together -Being stuck to you is beautiful.
Nour was with me step by step. She then brought me all the works they had for Majd. We are talking about two hundred pieces. I proceeded to spend the most nourishing hour of my life, sifting, savoring and taking photos. Nour explained to me about each piece that I or she liked or that held a special meaning for Majd.
I then rushed off to visit a beautiful friend with my sister. I showed her the photos as my enthusiasm and joy with this find was still so strong, still is to this day. Lo and behold my sister tells me that she loved them and wants to go the same day to see the pieces and we had another magical visit just before closing time. My sister also chose for herself, her daughters and friends.
-We heard you had an accident we brought roses and came to visit you. Feel better Mr. Monster. *But I didn't have an accident -Then how did this happen to you? *Someone brought me a rose.
-1,2,3 go... why aren't you racing? *The race isn't about who reaches the finish line quickest but who reaches with their soul the most beautiful.
Be a sun. The darkness is easy.
I have a very close friend and soul sister who is now living abroad. I wanted to give her son one for his second birthday and she loved and connected to the art so much that she bought for herself and gifts. The same connection and love for Majd's art just seem to resonate. I love showing his work in my home to the close friends who come to visit and explaining his story of a soul that overcame darkness with the wisdom and courage of its spirit only to spread light into our lives and hearts.
-Your wish is my command *We want to play -Do you want an amusement park * No... just come and play with us
Can you please raise your hopes up a bit? Because they have closed off the road....
By the way, the workshop is taking the gang of the butterfly beyond inspiring art and philosophy into the realm of action and reality. Where one can become a member and join the mission to do good and steal the sadness of others alongside Fasoon and Fasooneh. A big shout-out and hug of thanks to Ghada and Nour for carrying the torch. I look forward to becoming a member and making the world a better brighter place with Majd, Ghada and Nour.
LEARN more about Majd Kurdieh
Kurdieh is a Syrian refugee who lives on the edge of a forest in Lebanon. He was driven to create his gang and the two leaders – a boy and a girl called Fasaoon and Fasaooneh – by an intense sadness at the war that continues to rage around him. He buried himself away in his studio and carved the characters from his imagination into a kind of utopian vision where they could iron out the scars of sadness and conflict upon his homeland.
VISIT The Workshop, Dubai
The Workshop Dubai is a multi-concept space that offers you experience an array of objects for all occasions. From designer to custom-made furniture, and objects d'art to smart gadgets for daily use. Combining under one roof an art gallery "Fann À Porter", an antique gallery "Vindemia", in house interior design services in a separate floor showcasing the products of different manufacturers and brands of furniture, lighting, and home accessories, a café, workshops, events and a library – areas to relax or work in a friendly atmosphere. A meeting place for collectors and emotional objects enthusiasts.
Peter Sanders is an internationally acclaimed photographer renowned for his documentation of the Islamic World. For forty years he has traveled extensively and has amassed a huge archive of over a quarter of a million photographs documenting a traditional Islam that is fast disappearing.
A visitor to one of his most recent exhibitions said: 'I was touched deeply not only by the photos, but by the photographer himself. He gave me an opportunity to reflect on my existence on earth and see the beauty of Islam.'
Take a course with Peter Sanders
The Art of Seeing Journeys are photography programs designed to teach and instill the ability to tell a story through pictures. The best way to learn is from people who have mastered their craft. The team want to create such an environment in different places in the world where everyone, from the beginner to the expert, may benefit from Peter Sanders's vast knowledge and experience of photography and storytelling.
CHARACTERS in the Very Scary Butterfly Gang
Fasoon and Fasooneh: Smaller than a cherry blossom and bigger than the world, they are always smiling even if they were in tears, they do not have hands except when they want to carry a rose or to hold the hand of a friend, their clothes are smudged with dirt because they like to run in the wilderness, they do not own a house, they hate walls, they dream of a wide opened window hanging in the air.

The Monster: One of The Gang but he took the role of the villain so the story can go on.
The Mouse: Brave in-spite of his small size, he leaves a big space.
The Donkey: The philosopher of The Gang, he gets tired very fast that friends are obliged to carry him for the rest of the journey, he loves the butterfly.
The Rose: The scary weapon of The Gang, the members of The Gang disagreed on what she is exactly, some of them think she is a symbol of hope, and others think she is a symbol of joy, but I think she is just a rose.
The Thorns: Sometimes it is a barbed wire, it is just like all frontiers, a mere meaningless colorless bunch of lines.
Al Samsh: Different from Al Shams which is the Arabic word for "The sun", because she is always smiling, she rises up and sets down following her own mood, The Gang eats her light whenever they run out of chocolate.
The Bird: Always feels scared of the sky, and has a nostalgia for his cage in spite of the efforts of The Gang to convince him otherwise.
The Horse: Always lost because he is still learning how to run without a jockey riding on his back.
The Snail: The Gang prefers to ride his back in the happy moments so that time passes by slowly, he can carry an elephant without feeling tired.
The Butterfly: The logo/symbol of The Gang, she stands on The Rose without bothering her.
The Fish: She is bored of living in the water and at the same time she cannot breathe on the land, she cannot differentiate between dream and reality because she does not have eyelids.
The Dove: She thinks that wars broke because she is carrying the olive tree branch in the wrong way, she gets into depression and The Gang tries to cure her.
The Ram: Always scared and precocious most of the time he turns into a cloud that blocks The Samsh (the sun).
The Crow: He refuses to join The Gang and prefers to steal joy.
The Candle: When she met The Gang she was old, and whenever she burns she becomes smaller, now she is a child learning to speak.
The Wolf<<whose tail is a tree>>: He is very strong, he eats the ugly ideas and bites on his dream very well, sometimes the friends hang a swing on his tail.
The Hyena: Always sad in spite of his laughter, he runs away from human beings because he thinks they are scary monsters.
The Elephant: Gives everything and never listens to anyone, therefore he became very large.
The Chocolate: The food of The Gang, and sometimes dirt turns into Chocolate.
The Owl: Generally he does not need the sun to find his way, he believes that he who does not see will definitely be lost.
The Artist: He tries to interfere sometimes, but most of his trials are in vain, and until now The Gang still considers him writing his name on their world as an unwanted behavior.
Special Thanks
To Majd and the Workshop for giving access to the paintings and to Mona for the contribution of photographs to this post.
Share This Post