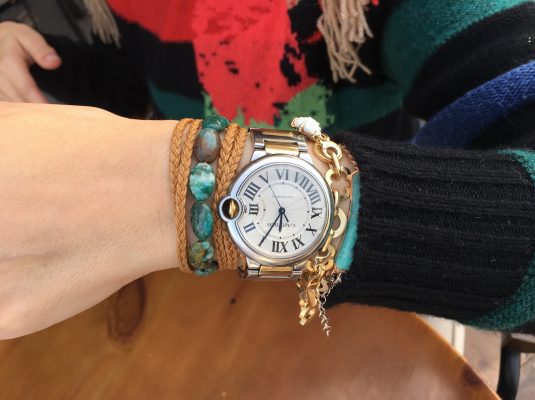 I've loved the Out of the Box market, ever since it first came to the large lawn right outside my home in Dubai one season. It carried all these craft items and clothes that are inspired by Arab and Muslim gems. This year was extra special to me as I found, right in the middle of it, at a small stall across from the stage, the loveliest smartly designed bracelet, necklace, choker and anklet in one! I just love where beauty meets function. I stood there and started choosing one for me and that was hard as the stones and designs were so gorgeous. Then I started talking to both the craftsman Javier and his partner in Dubai, Mina. I was charmed from the get go by the welcome and humor and realness that Mina offered me and every visitor. Then, there was Javier with his calm, elegant demeanor and naturally colorful, beautifully made clothes.
I started speaking with Javier about the stones and let me tell you, I have a love affair with semi-precious stones, so I was full of questions. To my delight I realized that some of those stones are sourced from the Muslim world, like the famed lapis lazuli of Afghanistan, The exquisite turquoise and coral of Iran, and the beautiful agate of Turkey. It was then and there that I realized I have a post! My wonderful therapist and long time friend tells me that peridot has light female energy and lapis  lazuli has a more mature female energy. I have had a love of these two stones ever since and try to wear them as simple jewelry to look at them and benefit from their positive energy.
I kept going back to Javier and Mina's stall at the event. Both, to try and speak with Javier further and also to buy another of his beautiful pieces for a friend that had come to mind. I enjoyed gifting them to people who would totally get me when I described javier and the incredibly positive energy and skill behind his pieces. I think I ended up with well over ten pieces and with each new piece was also the loveliest mini conversation with Javier and Mina to add to the collection. I got so much more than I imagined from those precious talks.
Javier's becoming a jeweler was by accident. A friend had brought stones for them to play around with and have fun. But, long after all of the others had got up and left, Javier was still working away, thoroughly engaged and enjoying himself. He eventually started to travel to Greece to spend a few months of the year selling his pieces on a spread on the floor. Then, he would go back content with his hard won earnings to Argentina where he lives with his partner and daughter.
They live in a valley that follows a sustainable way of life and his little girl attends a Waldorf school, which is an internationally well established highly creative holistic alternative approach to education that I like very much. There is no wifi connection in that valley and the access comes, only when he takes his girl to school. It was on that spread that Mina met Javier and was struck by his art and his character. They struck a friendship and Javier's line bloomed from it and his trips to Out of the Box Market started.
It was so affirming to hear of his creative path and how the design of the pieces evolved as a combination of his and his partners' thoughts and what customers would ask for. It's something to hear how simply they listened and ascended. Any true creative recognizes the authenticity of this kind of path. And to have a close look at the quality and finishing touches of his pieces is to see proof of the journey and it's sincerity.
All this was quite touching but what had the admiration for this sincere soul nestle deep in my heart, was how he described contentment with a simpler more natural way of life. He was approached and has collaborated with renowned designers but decided against scaling his work so as not to lose the high quality, his creative freedom and personal time.
I hear others speak with such longing of this kind of life but I have not met someone who actually embraces it so fully. We spoke at length for an hour and a half, well into closing time. Javier had work to do as the orders, of course, were pouring in. But, every time I would tell him that it was time for me to go, he would motion to me and with very little words show me that this human connection was more important to him than money and constant work like a machine. I was so touched.
As we were wrapping up to leave the market, I thought for a moment and realized that Javier had never been welcomed into an Arab home. So, I invited him and Mina, and Mina's girlfriend, lovely Sandra to dinner at my home.
Both Mina and Sandra are wonderful kindred souls in their own right. I have a deep gratitude to Mina who recognized how special both Javier and his art is and brought them to us. He has the not so easy job of sustaining a business yet at the same time protecting Javier's time and spirit. He also has a deep commitment to the spiritual path which I found admirable.
We spent a wonderful evening eating and talking about anything and everything. I still felt like I would like to get to know Javier, my new friend more before he left, so off we went to breakfast by the beach the morning before he left. Mina was so generous and left us to ourselves to bond and have the kind of deep exchange that usually happens only in a one on one and heart to heart. It was a special morning where we spoke openly with trust about our lives and our spiritual thoughts and beliefs. It was a conversation that expanded my heart and added to the strength of my faith. May we all be guided by the Light of Truth.
Javier and I stay in touch over WhatsApp and I look forward to the next time we meet here, or in Argentina, or who knows maybe Greece or India, the other two places he spends time in. I look forward to meeting Olivia his little girl whom he loves and is full of stories about and his partner whom he speaks of with deep respect and soft affection. Both my heart and the world are bigger and better with this most unexpected and welcome friendship.
LEARN more about Javier and his work
Javier is a handcrafted, men's accessories brand dedicated to superior quality and exquisite design. Javier only uses carefully sourced and chosen stones from around the world, as well as funky recycled materials. Each piece draws inspiration from nature and exotic travels across the world. Javier was founded by the Dubai-based design duo, Mina Jacob and Yousif Habil in collaboration with the Argentinian born globe-wanderer, Javier Gastaldi. The three created an accessories brand encompassing a unique hybrid of earthy sophisticated and trendy artwork.
VISIT Out of The Box Market
MOTB provides emerging designers with a supreme platform to showcase and sell their products to a huge customer base during Dubai's famous retail season, the Dubai Shopping Festival.
Alongside their brands, they feature a packed program of activities ranging from onstage performances in Live Bands, Solo Performances, DJ's and even classes of Yoga and well being. There is a full programme for kids too (even a bedtime story).
Special Thanks
Mona for her contribution of images to this article.
Share This Post