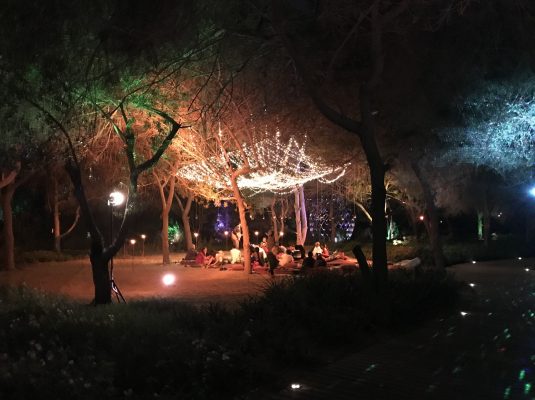 Some of my loveliest memories of childhood are around stories, both hearing them and telling them. My eldest aunt, my mother's sister, Nafiza, was the storyteller of the family and she was great at it. She would send me to the neighborhood store in Amman for yoghurt and I would bargain that each container was to be rewarded with a story of my choosing. It was a game that only the two of us shared and we both enjoyed it so much. There was a summer where I kept asking for the same fairytale of the golden horse again and again. I remember my poor aunt trying to entice me with snippets of other stories from her impressive repertoire, but I would stand strong and ask for the tale of the golden horse up to three times a day, haha.
When I returned to Amman at the age of 12 after a few years of absence, my aunt had forgotten the stories and so I had no way to record them. It's something to realize now that I was the only one in the family who asked for them. She had so many children around her, but none of the parents knew of her hidden treasure, so they missed the opportunity to have their kids exposed to their culture and heritage in the loveliest of ways. What was special about her stories was that they all had a Palestinian twist to them, with a character, a name, or a detail in the plot. They also all included rhymes crafted with everyday language, so they each carried precious parts of Palestinian culture and expressions in them. I can still recall her smile and deep raspy voice unfolding the tale right before my eyes and ears. They say that what is remembered well is usually connected to deep emotions. These moments held great joy for both of us.
I still remember my favorite story, minus its rhymes and am so grateful to retain this precious piece of my shared bond with my aunt. I can't tell you how sad I felt that the other stories were possibly lost as they are usually passed on orally. In high school, my mother took me to an event in Riyadh that was in support of Palestine and to my utter delight I found a book of folkloric stories. They had been compiled by a woman who had gathered the stories directly from women in Palestine. I can go back at will to that moment when I held the book for the first time, understanding what was in it, and that feeling of deep joy and gratitude to hold and to have something so meaningful to me. It possibly held some of my aunts' stories and more! 
It seems like storytelling is in my blood too, like my aunt. I am told by my family about how I would sit them down from the age of three and tell them stories. That magical world of tales was quite real and beautiful to me. As I crossed into my teenage years, I became the storyteller of the family. I used to love playing with the kids of my older cousins. They would run after me and tug at my blouse or skirt and plead with me to tell them one more story. Does that sound familiar, lol?  
So it's not a surprise that I am drawn to storytelling wherever I hear of it and last year, to my delight, I read about a storytelling festival in Sharjah at Noor island. One session, in particular, caught my attention because it was led by a storyteller visiting from Palestine. That year, she was the only storyteller from the Arab world. I went along and was so happy I did, because Fida Ataya did an amazing job acting out and singing a folkloric fairy tale about a tree that grows in Palestine. Her performance was made all the more engaging by her use of costume, props and daf, a traditional Middle Eastern tambourine.  What a performance that was!
The storytelling company is the brainchild of two talented Italian storytellers, Paola Balbi and Davide Bardi. I have such admiration for their commitment and passion for the craft. They founded Raccontamiunastoria Storytelling Company in 2004, and went on to create the International Raccontamiunastoria festival in Rome in 2009 and the International Storytelling Festival in Bolzano in 2009. In 2016 they brought their skill and magic to the UAE and started Tales on the Island - International Storytelling Festival in Sharjah.
Their storytelling follows a methodology, which they offer training on, from time-to-time. I am on their newsletter list and am always on the lookout, hoping that they will offer it at a time when I am able to attend. I love that the art of storytelling is taken seriously enough to have a company and a methodology that takes it into the realm of high art with movement, tonalities, music, interactivity and so much more! And yes, of course, it would come out of Italy, that incredible fount of creativity, liveliness and beauty. What a world Paola, Davide, their team and guest storytellers weave for us!
The stories that were told in English were translated so charmingly by Lamya Tawfik, an Egyptian storyteller. She is based in Dubai and is also a comedienne, presenter and actress in her own right. She has been honing her craft by working with the Storytelling Company and running story sessions at schools. The stories she told us this year were well chosen and performed for maximum impact, with the flare for comedy and acting that Egyptians are known for.
The setting for The Storytelling Company is just perfect.  It is located on a small island off the coast of Sharjah, called Noor Island, 'The island of light'. As I walked over the entrance bridge, I remembered what the lovely guide, Karine told me about the bridge at the entrance to the museum Quai du Branly, in Paris. It was designed by a famous architect, Jean Nouvel, who wanted to invite those entering the museum to leave the modern world behind before traveling back in time to experience and learn about the earliest civilizations of Africa, Asia, Oceania and the Americas. I suddenly felt a similar invitation to leave everything behind and enter into a magical world of tales, and I loved it!
The storytelling sessions at night are held outside beneath a canopy of trees and twinkling lights. The scattered floor cushions allow the audience to mix in the lovely way that traditional crafts encourage. So, child and adult alike get to sit beside each other and enjoy the telling of stories from all over the world.
This year, again, I was only able to attend two events. The first one was listening to the magical tales of the Tunisian storyteller, Raida Guermazi. The audience laughed all the way through, thoroughly tickled by the content and delivery.
I spoke to Raida afterwards and she told me about her career in theatre, which started at the age of 13. She has done so much, including presenting, TV acting, teaching and creative projects that served young children. She shared with me how storytelling had given her a sense of purpose and joy more than any other role she had taken on. I was so inspired by her love and appreciation for this ancient and powerful art, which is really not spread and honored enough, in my opinion. Those stories carried history, place, custom and values in the most effective form, a story. Much as I love books and grew up on audio-books as well, nothing is like the human touch of a story told with talent, charm and zest.
I recognized a kindred spirit in Raida so I wanted to spend time with her as way to welcome and thank her. I asked her to spend the afternoon of my birthday with me. I had decided it was a day I would take off and spend with those dear to my heart one-on-one and heart-to-heart. We had a lovely time getting to know each other and talking about family, education, Tunisia, Dubai and of course stories. I was so touched when she gifted me a story she had written based on one of the stories she would tell her son to help him through the fear that some kids get from certain harsh figures in their life at school. Her book is written in everyday Tunisian language. This is the first book she published as part of a series that she charmingly and tellingly called, 'Stories without Borders'. 
The second event I was able to attend was on the theme of wise fools. Apparently, there is now a day that honors the wise fools of different traditions around the world and of course, the classical Middle Eastern character, of Joha is on top of that list! I have such a love for Joha, so I was excited to experience their celebrations and show my appreciation.
This time, the event was in the daytime, so everyone gathered in the pavilion, which was just as charming as the night time gathering beneath the trees, and it was wonderful to see so many parents and kids from around the world listening, interacting and enjoying the event.
As I often reflect in my posts, and can't help but acknowledge each time, is the special kind of joy that fills my heart with hope, wonder and gratitude when I encounter beautiful and creative souls that understand the importance of knowing one's traditions. Those who represent their roots and the importance of traveling roads as a means of understanding other cultures and feeling their common humanity. It's the essence of practicing open mind, open heart.
By the way, I just borrowed phrases in this part from the theme of the festival as their words and mine could easily be interchanged. Now I have one more reason to visit Beautiful Tunisia, go to lively Egypt once more, long to see Palestine, and flock to the true storytellers and craftsmen of our time and to help spread news of them and their special talent. I Hope to see you there at the next festival which is scheduled in Ramadan!
LEARN more about Raccontamiunastoria
Raccontamiunastoria, also known as The Storytelling Company, are the first group of their kind in the U.A.E. Originally from Italy, the company has professional storytellers from all over the world and are now enchanting audiences of all ages with global stories from a vast array of cultures and periods of history.
In the past ten years they have been contributing to raising a new generation of professional storytellers through their workshops and their style, that is professionally recognised and praised internationally.
Paola is an artistic director of Raccontamiunstoria Storytelling Company, the leading storytelling Company in Italy and of the International Stortyelling Festival of Rome.
She has been a founding member of FEST (Federation for European Storytelling), serving on the board for two years, and travels all over the world with her storytelling performances both for adults and children. She is considered one of the best storytelling and storytelling trainers in the world of the International Storytelling Revival. 
Paola's business partner, Davide is the co-artistic director of Raccontamiunastoria. They are famous in the international storytelling scene for telling stories in tandem to portray the female and the male point of view. 
Davide speaks Italian and English, and is also a musician. He plays guitar, harmonica and several percussions, which he uses to accompany his storytelling and other artists with improvised original live music. He has traveled all over the world with his repertoire of musical stories.
Raida is a storyteller, comedian, producer and TV presenter with 23 years of performing experience. She was a storyteller with some of the best traditional Arabic tellers and in 2017 she was awarded the "Best Arabic-language storyteller" award by Sharek Center in London. Beside being a performer Raida is also a French high-school professor and a writer. She publishes stories both in Arabic and French.
She travels on a regular basis both as a performer and as an author to some of the most prestigious book fairs and festivals across the Arab and Francophone worlds. She performs in Classical Arabic, Tunisian Dialect and French.
Lamya is a natural storyteller who is well known in the Dubai scene. She holds a BA and MA in Journalism and Mass Communication from the American University in Cairo and a Doctorate Degree in Childhood Studies from Ain Shams University in Cairo.
She is training as a professional storyteller with Paola Balbi and has been a great success, and also has a passion for children and loves working with them, which makes her a much-loved presenter on Pearl FM,
Fidaa Ataya was born and lives in Kufer Ni'meh. She has made seven short films and learnt her filmmaking skills at the Amin Media Network.
She is an active young woman who enjoys working with children and youth in many organizations. She performs puppet shows, enjoys storytelling and promotes development through sports. "Children are always happy after they have participated in our activities. For me, puppet shows, storytelling and playing sports are good ways to share different messages with children. The last performance taught them the importance of being honest."
Martina is a young talented storyteller and one of Paola Balbi's most brilliant disciples. Speaking Italian, German and English, she has worked extensively with Raccontamiunastoria for the last couple of years, both as staff and an artist at Storytelling Festivals.
She is also the founder of Storytelling Turin, a Storytelling Company in the North of Italy, where she loves to explore the pastures of her native Dolomite mountains.
The musée du quai Branly-Jacques Chirac in Paris, France, is a museum featuring the indigenous art and cultures of Africa, Asia, Oceania, and the Americas. The museum collection has 450,000 objects, of which 3,500 are on display at any given time, in both permanent and temporary thematic exhibits. A selection of objects from the museum is also displayed in the Pavillon des Sessions of the Louvre Museum.
Share This Post