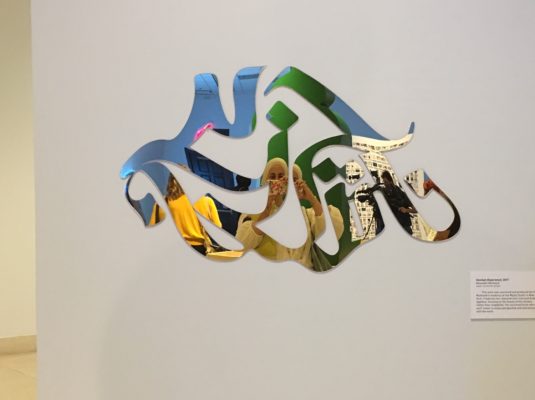 I found an unexpected gem which makes it all the more precious! The Arab American National museum has been on my bucket list for years now since it was created in 2005. This summer my niece had an internship in Washington DC. She told me she would like to travel every weekend, to which I needed no second bidding, so I asked her if she was up for visiting the museum with me in Detroit Michigan and she said yes! 
A soul sister, Yasemin, joined us for the day and night. We had a perfect day. We had brunch in Parc, a charming restaurant by an open plaza complete with fountain and a very funky child sand play area. The food was delicious from eggs, to chicken sausage to oven baked pancakes and REAL maple syrup. It doesn't get much better than that! 
After our charming brunch, we strolled along  to the museum in search of its permanent exhibit (which will be the focus of another post, yet to come) and lo and behold,  we encountered the opening of 'The Epicenter'  an exhibit featuring the work of 16 Saudi artists. I was so excited about our serendipitous timing. 
At the onset, we met two of the artists; outgoing warm Marwa Al Mugait and shy sweet Qamar Abdulmalik as we entered the museum. We spoke for a bit and promised to come back in the evening for the opening. I love meeting the creatives behind the art as then a whole world of context and process opens up, which to me is integral to gaining a deeper understanding and appreciation of both the creative process and the art work. 
Each piece was amazing, a true testament to how the Saudi art scene has been evolving. It was such a pleasure to see the support given by ARAMCO to sponsor this incredible tour of 9 cities in the states, starting with Houston, Texas and ending in Brooklyn, NY. The exhibit is the brainchild of Ithra institute based in saudi as part of King Abdul Aziz Center for World Culture created to build local talent and foster cultural understanding and dialogue. The center has been doing some impactful projects within the fields of art & culture as well as science & innovation. 
We spoke to some of the artists, asking them about their artwork and listened to them talk so articulately about one important concept after another related to identity, religion, humanity and cross cultural exchange. Something so lovely was present in how they had one foot planted firmly in their culture and it's beautiful values and the other in world culture and in where the arts are today as an expression of tradition and thought.
There was a compelling calligraphiti performance by Nugamshi. I have attended traditional calligraphy writing sessions before and so enjoy watching the masters at work. It is something to witness the labour of thousands of hours of practice turned into something so beautiful, created almost instantaneously with a few sure focused strokes. Nugamshi took it to a different level by doing a gigantic work using what looked like a sweeper for a brush and moving in precise staccato movements that looked like East Asian martial arts moves. We spoke to Nugamshi after the performance and he had written "the human being is of value" in a combined Arabic and ancient script. He expressed his belief in the beauty of Arabic calligraphy and in being part of its evolution and his love for Japanese culture and calligraphy since childhood. One interesting experience he shared was that he lived for 2 months as a homeless person in Hong Kong, by choice and learned calligraphy. He also spoke of how he was affected by how the Japanese emphasize movement itself as part of the art. I appreciate calligraphy even more when it continues to honor its power to immortalize words by choosing the messages well. Nughamshi, from what I have seen does that discerningly in the phrases he chooses to write.
We went back to the museum for more the next day, as there was a set program of 2 hours of both Saudi shorts and panel discussions with the artists. Sadly, we were only able to watch three artists before we had to leave, but these quotes by each artist resonated and stayed with me.  Each quote expressed a universal value or what in my opinion, should be one lol:
Al Ahmad on the role of art:
"Art as a visual communication is important to bring full understanding of a country.. to fill the gaps and to complete the picture of a country's culture".
Al Angawi on craftsmanship:
"What is interesting for an artist, is not to just to see the end result of your work, but the process of the work itself and what you will gain as a human and how you will be enriched by the experience, whether if it's a book, a drawing or a painting. It's important, how your body or your hands move as they craft something. Also your mind is crafting the thoughts. The idea of craftsmanship or crafts in itself is very intriguing to me. It happens on many levels from the body aspect, my hands can be trained to create, and my eyes can look for certain proportions. My mind can be intrigued with the concepts, and my soul can elevate. So to put mind body and soul into a work is fascinating. I am always excited to see how the next experience will change me".
Daydaban on true connection: 
"For every occasion or exhibit I participate in I choose appropriate messages and their works that represent them, for the place and audience to achieve my goal of connection and engaging with others who will be present in the space". 
One point, that many of the artists agreed on, is that it's not important to look at problems and point fingers, but to be part of the solution. I love that artists hold a pro-active position as guardians of culture, simultaneously documenting and creating it in a society. Their purpose is the call of evolution, not revolution as Ahmad AlAngawi mentioned he had heard Prince Turky AlFaisal say. 
What was so Arab, and done in such a lovely way, was the discussion between the artist Ayman Yossri Daydaban, the moderator and translator.  It was just delightful. Sadly I didn't catch her name. She departed from the normal translator etiquette so charmingly, motivated by her sincere attempts to capture the essence of what she was translating. She would tell Ayman to stop as she needed to translate the, already by then, dense ideas which he was expressing. She would clarify with him to make sure she understood, then at other times, she would look to him to see if she chose a good word to capture the spirit of what he said, as there was no literal translation. She would make an aha sound if she made an illuminating connection into the facets of meaning he was expressing and showed such an enthusiasm for his work and words that she would share her own connections where relevant in the midst of the translation. I was delighted with her and their interaction, and I could tell that Ayman and the audience were appreciative of her spontaneity and wit. Arab culture can be so warm, engaging and participatory in the right hands! 
I felt such pride and hope as I took in the beauty of the work of these artists and the platforms that supported them, and I'm so very excited to share the news with my friends in Washington DC and NY that the artists are coming to their hood!
The Arabic American National History museum may still have one more exciting event, which is that the women who create the colorful traditional work on the walls of their houses in Asir, a region of Saudi, maybe flown out in November for an exchange. Now that's a wow event as these women grew up in a very traditional, conservative setting and they dress and live accordingly. It's incredible that their art would open doors to the world in this way and empower them to engage with it in such a positive context. Here are some photos from the lovely short on the art of AlQat that was shown the second day.
It was also interesting to know that the exhibit changes from city to city, featuring different artists and with a new concept that fits the individual context. The particular edition of the exhibit that I attended in Detroit was called Epicenter, because it represented the meeting of two epicenters of Arab and Muslim culture. Detroit is the Arab and Muslim epicenter of the US, and Saudi is the Muslim epicenter of the world, being the guardian of the two holy sites Mecca and Medina and also, being the second largest Arab country, it plays a major role in Arab culture as well. I appreciate the effort that went into reinventing the concept of the exhibit so that it reflects locality within its open message. 
I am so looking forward to how it will be presented in Utah, Minnesota, DC and NY. Please, do share if you end up going to any of those or have gone to the ones prior. This is the kind of word we want to spread to counter stereotype upon stereotype that comes out in our name. 
Now, come join me for a walk through the art pieces that were present and the explanation that was given about the artists and their work. Each piece was exceptional for its creative edge and depth of concept behind it. I hope you feel the pleasure and admiration we felt about this special exhibit and its fresh unusual view into Saudi culture. 
About The Multi-City Saudi Artists Tour
In June 2016, a group of Saudi artists embarked on a multi-city tour of the United States to generate people-to-people dialogue and better understanding between the two nations.
The tour began in Texas with a large scale exhibition at the Station Museum of Contemporary Art in Houston before travelling to Aspen, CO; San Francisco, CA; Lewiston, ME; and Los Angeles, CA.
These exhibitions present an authentic insight into contemporary life and culture in Saudi Arabia through the works of leading and emerging artists from the Kingdom. This timely exhibition at the Arab American National Museum in Dearborn, MI will be followed by stops in Salt Lake City, UT; Memphis, TN; Washington, DC; and New York, all before the end of 2017.
The initiative is spearheaded by the King Abdulaziz Center for World Culture, Saudi's soon-to-be opened hub for arts, culture and education, and produced with support from CULTURUNNERS, an international platform for travelling artists.
Exhibitions and educational programming are being produced in partnership with cultural institutions and universities across the U.S.A, and a reciprocal program of events and artistic projects is taking place with American artists and institutions across Saudi Arabia.
EPICENTER: The Tour in Dearborn Detroit at AANM
Epicenter X, the first major exhibition of contemporary Saudi artists to U.S. audiences. Cutting through the political discourse of media outlets and government officials, the artworks featured in this exhibition open doors to the lives of the Saudi people. In doing so, it is our hope this exhibition will challenge common views and stereotypes of Arab culture by lending voice to artists exploring compelling ideas such urbanization, globalization, religion and the impact of American popular culture in Saudi society.
Epicenter X is organized by the Arab American National Museum in collaboration with the King Abdulaziz Center for World Culture, simply known as Ithra, and is produced with support from CULTURUNNERS.
The King AbdulAziz Center for World Culture
The King Abdulaziz Center for World Culture is a one-of-a kind institution that brings together multiple offerings under one roof. From arts and culture to science and innovation, this bold initiative by Saudi Aramco promises a continuous journey of enrichment designed to energize the next knowledge economy of Saudi Arabia.
As the Kingdom of Saudi Arabia strives to achieve its ambitious national development goals to a knowledge-based economy, the Center acts as a bridge connecting cultures and cultivating a creative and innovative community. At the King Abdulaziz Center for World Culture, we believe in the power of people and ideas to unlock new possibilities: the future is what we make of it.
ARAB AMERICAN NATIONAL MUSEUM AANM
Since opening its door in 2005, the Arab American National Museum (AANM) has remained the nation's only cultural institution to document, preserve and present the history, culture, and contributions of Arab Americans. Located in Dearborn, Michigan, amid the largest concentrations of Arab Americans in the United States, AANM presents exhibitions and wide range of public programs in Michigan and in major cities across the country. By bringing the voices and faces of Arab Americans and other minorities, as well as shedding light on the shared experiences of immigrants and ethnic groups, paying tribute to the diversity of our nation.
AANM is one of just four Michigan Affiliates of the Smithsonian Institution in Washington, D.C. and is accredited by the American Alliance of Museums.
AANM is a founding member of Detroit-area arts collective Culture Source as well as the Immigration and Civil Rights Network of the International Coalition of Sites of Conscience.
Most recently, AANM was selected to join the National Performance Network. AANM is an institution of ACCESS, the Dearborn, Michigan -based human service agency founded in 1971.
Developed in collaboration with an international network of artists and journalists from the Middle East, Europe and the United States, CULTURUNNERS is an independent model of cultural exchange and production; one which empowers and mobilizes international artists to tell stories and create art across physical and psychological borders.
Share This Post