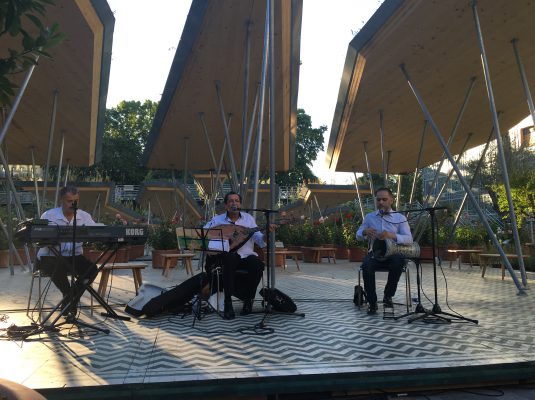 So, I decided today, to foray away from the Palestinian festival, to explore a world that I know very little of, but one that I am SO curious about.. North Africa! 
I was blessed to attend a classical music concert by the Algerian Qasbah trio Yahia Bouchala in the temporary garden  exhibit at the Institut du Monde Arabe. It was a delightful setting on a cool, beautiful breezy evening that was preceded by a hot and sticky, humid day. The summer sun didn't set until 10 pm, so we were able to bask in the slow sweet rays of the sunset, reclined on our lounging chairs, as the delightful notes of the 3 talented musicians swirled in the air around us.
The trio's lead was a strong rooted, gracious older gentleman and the second, a kind and soft man who infectiously looooves to play music. While his friends were drinking water and taking a minute to rest, he just played on, treating us to a masterful improvisation. The third was a younger percussionist who attentively took direction from the older gentleman.  He showed him the kind of respect that comes from an old world upbringing, understanding what respecting one's teacher means.
They started with a song welcoming us to the Institut du Monde Arabe (IMA), and speaking of the soft breeze, and making prayers for our well being. I love how, sometimes, traditional Arabic songs can be playful and personalized. We could not have felt more welcomed or cared for.
The music flowed through various themes, teasing my understanding of certain Arabic words and expressions enough to connect me to a genre and rhythms I had never heard before. Bathed in the glorious harmony of the moment, I began to feel that incredible feeling that the Arabs call 'Tarab'. The word has no equal in English. The closest meaning in the dictionary is, 'rapture' and that in itself doesn't do it justice. It's a slow deep physical feeling of joy and appreciation that music can conjure.  Allah! happiness welled up from deep inside, and I felt a connection to human emotions, the solid and real versions of emotions like nostalgia, and love, and sadness, and surrender to Divine Will. Words and rhythms wove their threads, and my heart was revived and as green as the garden around us.
The songs were 11 minutes long!!! Talk about an overflowing cup!!! 
Towards the end, the Algerians couldn't take it any longer and stood up to dance, with such lovely staccato steps that still managed to have sway and curve. An Algerian father with his French wife and three daughters could not contain his excitement at the opportunity to share his beautiful culture with his girls. He kept alternating dances with his 11, 7 and 4 year old. It was quite touching to see. His emphatic energy stirred others to join him and the dancing stage just kept expanding!
Also, part of the group was a beautiful woman in a flowery fitted feminine dress and a watermelon jacket, accented by a grey scarf, who was swaying with seasoned moves. She was joined by a younger woman in jeans who had a spritely spring in her step, and a joy, and a jump that she maintained throughout!
And, all of this was on offer for 12 Euro.. Allah, the French have some things so right 🙂 
Listen to the audio link of the Qasbah trio below and be transported back with me to the temporary garden  exhibit at the Institut du Monde Arabe
LISTEN to Qasbah Music by Bouchala
Yahia Bouchala are most famous for traditional Algiers Qasbah music that originated from the citadel of Algiers, in Algeria, and the traditional quarter clustered around it. It is one of the music styles most appreciated by the Algerians. Yahia Bouchala have mastered the most beautiful songs from the Chaâbi and Andalous repertoires that often exalt the most charming encounters in love, and celebrate beauty of every kind. A good example is in the image of this text: "A brilliant golden evening  -  Gold strewn with the magnificent trees of the garden. Then emerges a gazelle of outstanding beauty, whose gait and suppleness make the shrub jealous".
Share This Post