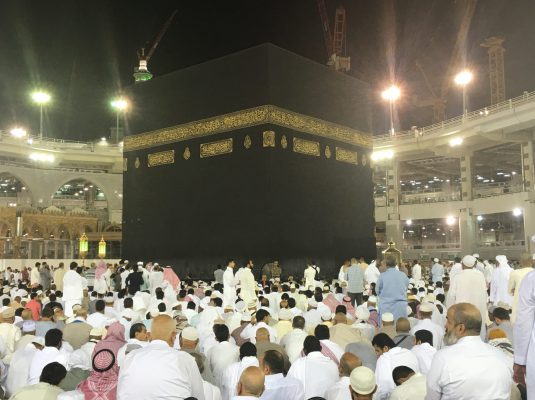 The ultimate Muslim experience is a visit to the Ka'bah (1). I began my annual Umrah visit at the age of 14 and continued until 3 years ago. When I returned this year, I could feel the gap since my last visit. I pray that this absence doesn't happen again.
My ideal visit to Mecca starts in the presence of loved ones, before spending some days by myself. This time I was blessed to be joined by my sister and nieces. It was joyful to do "tawaf" (2) and "sa'yi" (3) with them. I was even more blessed to be able to stay for 7 days.  I would always recommend staying a minimum of 5 days to have enough time to slow down and reflect properly on your inner state, and that of the world around you. The experience will heighten your awareness and bring you powerful life lessons.
I treasure this time that I get to sit peacefully, reflect and take in Al Haram throughout the different times of the day. Where will you find space to sit around the Ka'bah? Who will be your neighbor as you sit and contemplate? Or as you pray? What interactions come your way? Your Mecca experience is 'custom made' by God to help you understand yourself better, to celebrate the positive progress you have made and also to recognize where you still need to develop in character and in faith. What a gift of precious Mercy and Love lies in that!
There were so many children around me this time, as well as women with beautiful "Adab"(4) from Medina, and older hospitable Saudi women with their coffee and dates ready to share their blessings and traditions.  All were friendly and curious, and open to beautiful conversations on life and God.  I enjoyed having the opportunity to be playful with the kids and make them feel welcome in the House of God.
These meetings are important, as they give me the opportunity to put into action items from my special "Umrah" list. I love lists and, years ago, I started one of 'to dos' and 'items' to take to Umrah. Each year, I keep adding to my list; it's an experience that gives me so much pleasure. I also use it to help loved ones prepare to do Umrah, especially the first timers!!
My biggest discovery, in cultural and religious terms, is the "subha"(6) that allows you to count up to 10,000 "dhikrs"(7)!!! I got these subhas for friends and families, and did 50,000 "istighfar"(8). Such a beautiful feeling of peace came from doing that.
During my visit to Mecca this year, I was struck time and again by the diversity of the Muslims who gathered from all over the world.  The way they looked in their different styles of dress touched my heart. It was such a visual proof of the cultural richness of Islam. All those with faithful hearts are accepted in the House of God.
My new delightful discovery was the Chinese. They became an instant favorite! The women wore hijab that was feminine and yet truly modest.  Both men and women carried themselves with slow and sure dignity. May Allah guide us all to His "Rida"(9). I took pictures of a Chinese man, respecting both his anonymity and that of the women.  
In my absence from the Mecca visits, I had gone to 4 retreats, both in the US and in Europe. I started to really understand that one of the main benefits of Umrah is not just to let the world fall away as we know it, and become immersed and recharge one's self at the spiritual level. It is also about searching within myself, to get a deeper understanding of what I am ready to take with me beyond this precious haven, even if it's something small. What an achievement it is to make it a consistent habit that brings light into my heart and way of life.
So, for this retreat I decided to create a daily ritual and it went something like this: In the middle of each night I would recite prayers to Allah, in stillness and serenity, until "Qoran al Fajer"(10). Then I would memorize excerpts from the Qoran. Istighfar is continuous.
Then during the times between "Salat al Thuhr"(11), "Salat al Aser"(12), "Salat al Maghreb"(13) and "Salat al Isha"(14) I made "Dua"(15), and recited "Quran"(16).
One day, while I was walking, looking at the "Ka'bah", I thought of friends who had been gifted part of "Kiswat al Ka'bah" (17) . I prayed that somehow I would get a piece too.  Then, in Jeddah, my friend took me to a popular mall, "I am special", and 'lo and behold', in a small kiosk on the ground floor, to the right of the entrance, there was a company called Saudi Spirit, that makes  subhas and Qorans and accessories that have pieces of the Kiswat al Ka'bah in them! I was over the moon.
I am now home again, still enjoying a blessed tranquility that resonated from the Salat al Fajer prayers (18) and from the whispered conversations of peaceful souls with God.
May He Accept our prayers as only He Knows how. "Al Hakeem"(19) " Al Raheem"(20).
Ka'bah- a cube shaped structure that Muslims believe was built by prophets Ibrahim and his son Ismail in response to a command from God. It is the holiest place on Earth for Muslims which they turn to in unison for their daily prayers. It is in AlHaram which is the house of God, in Mecca, in Saudi Arabia.

Tawaaf – circling the Ka'bah 7 times in a counterclockwise direction. Its part of the obligatory rituals of Umrah.

Sa'yi – walking between the hills of Safa and Marwah which are situated to the South and the North of the Ka'bah respectively. This is where Ibrahim left Hajar and her son Ismail in a barren land. Ismail needed water and Hajar started going from one hill to the other and with the seventh turn Ismail had dug out the holy water of Zamzam with his hands digging in the sand. This is performed after the Tawaf is completed and is also part of the obligatory rituals of Umrah.

Adab –

 

Islamic etiquette: refinement, good manners, morals, decorum, decency and humaneness. The Prophet Peace and Blessings be upon him was the perfect human example of Adab and his character was based on the teachings of the Qoran.  

Umrah – is non obligatory ritualistic visit to AlHaram (the House of God in Mecca) which can be performed at any time while Hajj is at a specific time of the year.

Subha – prayer beads. They come in specific numbers. The most common is 33.

Dhikr – expressions of remembrance of God, prophet Muhammad peace be upon him or supplication. It can be in the heart, with words or in action.

Istighfar – asking for forgiveness from Allah. Comes from the meaning of covering as God covers one's sins. Istighfar is a powerful prayer that has many benefits not just in removing sins but in removing anxiety and sadness as well as opening the door to blessings.

Rida – perfect contentment with God's will and therefore one's life and what God gave or saw fit to keep away from them in it.

Quran al Fajr – reciting the Quran at dawn. This is mentioned in the Quran as a special blessed time to recite.

Salat al Thuhr – midday prayers. There are 5 obligatory daily prayers.

Salat al Aser –  afternoon prayers.

Salat al Maghreb – sunset prayers.

Salat al Isha – prayers after sunset and until midnight.

Dua' – prayers and askance of God. A very important part of worship that the Prophet peace and prayers be upon him said is so important as to be the "brain of worship" and that it "changes destiny". In the Quran God says, "Ask and you shall receive"

Quran – the holy book of Islam. It is the word of God as it was revealed to Prophet Muhammad Peace and Prayers be upon him.

Kiswat al Ka'bah – the cloth that covers the Ka'bah that is changed yearly. It is made of black silk and bears embroidered calligraphy in gold. The old cloth is usually cut up and gifted to various individuals.

Salat al Fajer – early morning prayers with the first thread of light until the sun rises.

Al Hakeem – one of the Beautiful 99 Names of Allah that describe His Attributes of Beauty and Majesty. Hakeem means wise and places everything in its proper place and context. The names of Allah are infinite but 99 where specifically revealed in the Quran and sayings of the prophet Muhammad peace be upon him.

Al Raheem –one of the Beautiful 99 Names of Allah that means the one who has mercy for his believers. There are two names that come from Rahma which is mercy. One is Rahman which means merciful to all mankind. Raheem means mercy specifically to the believers. Both are used in the expression Bismi Allah Al Rahman Al Raheem. This expression is what should be said at the beginning of any act that a Muslim does and is also to be said right before reciting the Quran.
Share This Post